---
Powder coated steel toilet partitions are a great option for many public bathrooms. They are functional and inexpensive. Customers who choose powder coated steel bathroom stalls can expect day-to-day durability, years long lifespan, an array of available colors, and design suitable for most building types. Instructions are user-friendly. For many customers, there is no need to hire a professional installer. Powder coated toilet stalls include a 3-year manufacturer warranty.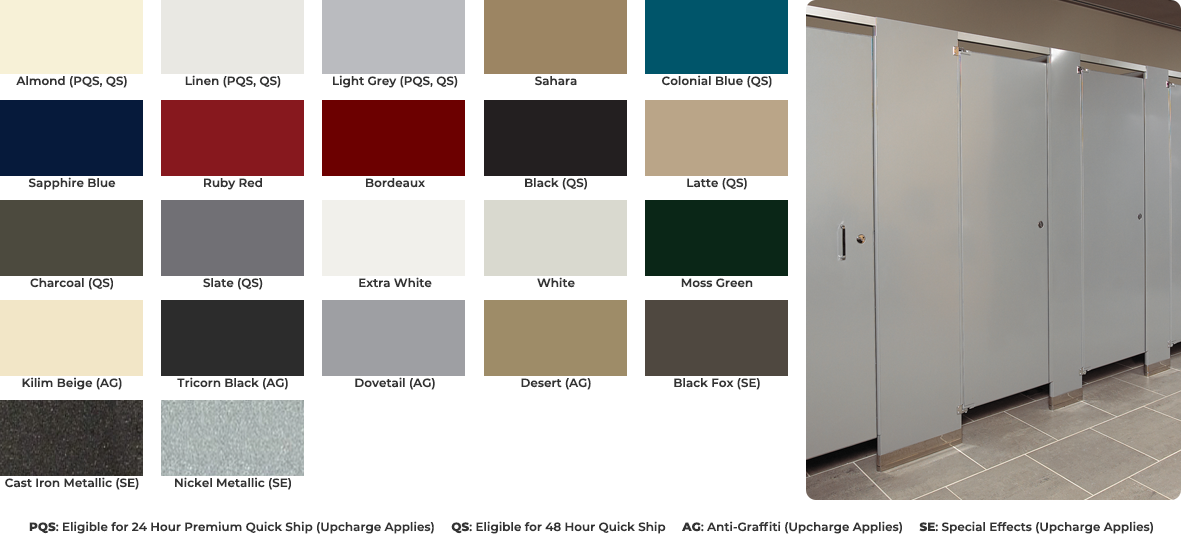 Bathrooms are everywhere. Restaurants and bars, shops, schools, office buildings… the list goes on and on. Most restrooms contain one or more bathroom stalls. Each bathroom partition system has a different look and style. Now, you can personalize the toilet partitions for your facility. Choose from dozens of available colors. View our color charts to find the best match for your style!

Overhead-braced partitions are significantly sturdier than floor-mount only stalls.
Bathroom Stall Option Offering Affordability & Durability
Manufacturers build CLASS A fireproof powder coated steel bathroom stalls with safety in mind. They are also designed to withstand the tests of time. Their professional finish avoids rust, fading, or chipping. This attention to detail keeps your bathroom looking clean year after year. Other features include:
Welded corner seams to prevent warping and buckling
Easily repair or replace any damaged part
Panels reinforced with 1-inch honeycomb cells for rigid strength and sound dampening privacy
Assembly with vandal-proof fasteners
Easy-open ADA-compliant latches offer privacy but open quickly in emergencies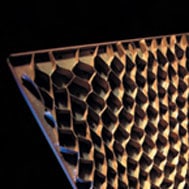 Despite being lightweight, steel partitions contain a stiffening core.
50% Recycled Material, Zero Emissions
Partition Plus is proud to offer powder coated steel bathroom stalls manufactured using environmentally friendly practices. Half the materials used in the construction of our powder coated steel bathroom stalls are recycled. 14% of the material is pre-consumer, while 36% is post-consumer. Additionally, the powder coating process used to color and protect the metal partitions:
uses very little energy
creates nearly zero emissions
is virtually waste free
Bathroom partitions in powder coated steel come with optional enhanced anti-graffiti properties. This option saves on vandalism repair in the long term. Four select colors are designed to meet ASTM D6578 for graffiti resistance. This powder coat protects from everything. From permanent marker, lipstick, and spray paint, to industrial chemicals, detergents, or acids. Thanks to these anti-graffiti properties, the replacement of large portions of the stall due to vandalism is unnecessary. At the same time, your partitions maintain a lasting clean-and-professional look.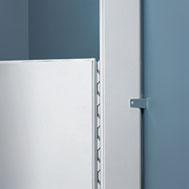 Continuous hinges greatly enhance privacy.
Many Levels of Bathroom Privacy
We all know how important privacy is in the bathroom! Now, you can customize just how private you want yours to be. Our bathroom stalls come with a "No Sightline Solution" option. This upgrade prevents any gaps along the entirety of the door frame. For example, the door uses a continuous stop. It features a rubber bumper that reduces noise and wear to ensure user comfort.
Consider upgrading to continuous hinges or hinge side fillers for added privacy. Alternatively, you can easily add these options to already-installed restroom partitions. The Standard Series toilet stalls are mounted 12" from the floor, with the Elite having a 64" door and 6" of lower clearance. For restroom operators seeking maximum privacy, the Elite Plus System lengthens the doors to 72" and the panels to 76". All of them maintain the Hadrian look: clean and streamlined. Elite offers the most privacy available in a bathroom stall.
ADA Compliant Toilet Partitions from Hadrian and Others
Another versatile aspect of powder-coated steel partitions is the large number of accessibility options. It is a simple matter for Partition Plus to configure powder coated stalls – from any manufacturer – with ADA compliance and general accessibility in mind. 90% of compliance is making sure the partitions are properly sized, given all applicable codes and the building's circumstance. Per ADA regulations, some multiuser bathrooms may need a 60″ by 60″ stall, for instance. The remaining 10% of compliance relates to doors and hardware. Fortunately, 36″ wide doors, ADA-compliant locks, and other items are readily available from Hadrian and other manufacturers.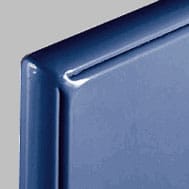 Available in a range of eye-catching colors.
More Upgrades for Your Powder Coated Steel Bathroom Stalls
If you'd like to add some serious style to your bathroom, order your partitions with a stainless steel hardware package, including #4 brushed fittings. For added durability, order powder coated steel stalls with Masonite-reinforced pegboard core. The pegboard core prevents dents and absorbs any shocks the panels, pilasters, or doors may receive.
Powder coated steel from Partition Plus offers shoppers many choices. Between the color, privacy level, and various finishes, the process involves dozens of decisions. Completely customize these bathroom partitions to meet your needs – and to suit your bathroom users. You'll even be able to complement the look and style of your establishment. Call Partition Plus at 800-298-9696 or email sales@partitionplus.com to learn more about powder coated steel toilet partitions.