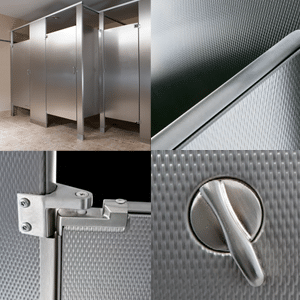 Stainless steel stalls blend with many design schemes.
Stainless steel stalls offer significant benefits to offices, shops, restaurants, and churches. First, stainless partitions give a bathroom a sleek, modern appearance. They instantly upgrade any restroom because of stainless steel's connotation with luxury. Second, manufacturers engineer stainless steel for long-term service. Your organization will enjoy stainless stalls for years upon years. Third, stainless steel bathroom partitions provide stellar fire protection, when compared with other stall materials. Everyone can appreciate enhanced safety in the event of a fire. Request a quote now for stainless steel stalls.
Modern and Sleek Design
Indulge your facility's visitors with luxurious stainless steel toilet partitions. Likewise, stainless takes an employee restroom and immediately transforms it into an "executive washroom." The premium finish compliments both modern and traditional decor – after all, quality products blend with all interior design styles.
Stainless Steel Stalls Last a Lifetime
When properly maintained, stainless steel can last forever. Occasional polishing and adjustment will be necessary, but stainless partition panels have an indefinite lifespan. Only simple cleaners and tools are required. Stall manufacturers understand the potential of raw stainless, so the other aspects of the design also enhance durability. Corner welds and tack welds along seams keep the panels sturdy and sanitary. Components are filled with hundreds of 1/2 inch honeycomb cells, improving strength and rigidity. Should these stalls eventually require replacement, they are 100% recyclable. Even newly manufactured stainless steel bathroom stalls contain 76% post-consumer and 15% pre-consumer recycled steel.

Welding a stainless steel stall during manufacturing.
Stainless Steel Stalls Offer the Highest Fire Resistance
Stainless steel toilet partitions can slow a flames' spread within a bathroom space. While no material or design will help the spread of fire, all stalls have unique fire ratings. Because the steel itself is not flammable and few flammable materials are part of a stainless steel partition system, these stalls offer some of the best fire ratings. Fire resistance is a minor consideration for many stall shoppers, but any enhancement to a facility's safety greatly benefits owners, occupants, and visitors.
High Privacy Stainless
Partition manufacturers, like Hadrian, Inc., understand that privacy is vital. The following available features and options help us create high privacy configurations in stainless:
Full-Length Hinges
Continuous Stops
Extended Height Panels
Extended Height Doors
All privacy-enhancing components are available in attractive stainless steel finishes.
ADA Compliant Stainless
ADA compliant stainless toilet partition layouts are available. Partition Plus understands ADA compliant design because we sell accessible systems every day. Available barrier-free latches conform to American and Canadian disability access standards. Smoothly operating hinges and hardware ensure everyone can work stainless steel partitions efficiently and effectively.