Stainless Steel Restroom Partitions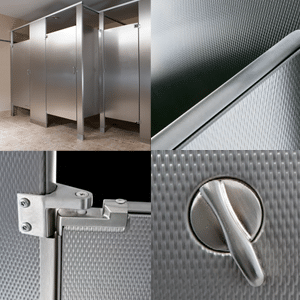 The popularity of stainless steel restroom partitions continues to grow.
Among customers outfitting class A office space or other luxury facilities, stainless steel restroom partitions are very popular. The modern, sleek appearance gives restroom spaces a luxurious feel. Upgrade any restroom with the eye-catching looks of stainless. Also, stainless partitions offer top build quality. Manufacturers thoughtfully engineer these stalls and use precision production techniques to fabricate them. Fire resistance is another area where stainless excels. Fire safety is rarely a concern for individuals visiting a public restroom; however, a facility's owners and operators must consider it when completing renovations or new construction. For more information about the benefits of stainless steel, please contact our friendly, knowledgeable staff. Reach Partition Plus by phone at 800-298-9696 or email sales@partitionplus.com.
Upgrade to Stainless Steel Restroom Partitions
If your bathroom needs a significant upgrade, consider buying stainless steel restroom partitions. During the last several decades, stainless steel's association with luxurious products has grown. A person doesn't need to be a building materials expert to connect stainless steel with top quality. Consumers expect stainless steel finishes on high-end appliances, electronics, and other merchandise. Stainless steel is increasingly popular as a bathroom stall material because of this. It can take a simple bathroom and transform it into an "executive washroom." High-quality products complement all styles of decor. Indeed, stainless is a staple in contemporary design, but it can work well in traditional contexts. The reflective qualities of the metal let it adapt to almost any color palate. Placing stainless items in a conservatively designed space emphasizes it's connotations of professionality.
Stainless Quality and Durability
In most cases, the same manufacturers craft stainless steel restroom partitions and powder-coated steel stalls. They use the same basic designs. Rather than painting the metal components, they give them a rich, satin finish. Stainless steel partitions include other enhancements, such as corner and edge welds providing increased rigidity. All metal panels – whether stainless or painted – utilize a fiber-based honeycomb structure below the metal sheeting. This reinforcement limits the transmission of sound and helps dampen any impacts the panels, doors, or pilasters might receive.
Leading Fire Safety
Metal stalls – stainless steel restroom partitions, especially – provide superior fire resistance. Under normal circumstances, the material is not flammable and will limit the spread of fire within the restroom. A burnable material, or a material coated with flammable substances, might accelerate flames – this isn't the case with stainless steel.
For more information about stainless steel restroom partitions, contact us at sales@partitionplus.com or call 800-298-9696. Partition Plus' experts are ready to discuss your bathroom needs and find the perfect stalls for your project and budget.