High-Pressure Laminate – Advantages
---
High-pressure laminate boasts an abundance of advantages over other bathroom stall materials. For many bathroom designers, small business owners, and organizations, high-pressure laminate is a superb choice. This fact is true whether you're outfitting the bathroom of a bar, or customizing facilities at a high-end country club.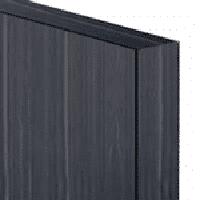 Achieve exciting faux stone and faux wood effects with laminate.
Highly Vandal Resistant
HPL and graffiti resilience are synonymous. Commercial graffiti removers work perfectly with high-pressure laminate panels, doors, and pilasters.
Fights Accidental Damage
High-pressure laminate tolerates accidental scratches and forceful impacts easily. Cleaning is straightforward and increases the useful lifespan of the product – maintain your bathroom partitions.
Easily Customized
You'll have no trouble finding a shade that fits your bathroom perfectly. For customers with some additional time, high-pressure laminate can be had in well over 400 colors!
LEED Certified & Environmentally Friendly
Receive points when using high-pressure plastic laminate toilet stalls. Contractors and business owners stand to benefit. LEED points are offered, as:
All of the industrial-grade particle boards found in these bathroom stalls have 100% pre-consumer recycled content.
The laminate is rapidly renewable and low-emitting by LEED standards.
Strong Fire Resistance
As a CLASS B material, high-pressure laminate bathroom partitions meet the ASTM E84 standard. They will not burn quickly or accelerate the spread of fire. They will stall the spread of fire and give building inhabitants time to reach safety.
Fast Delivery
Expectations to meet deadlines are high. Small business owners can't afford to put aside essential renovations that impact sales and turnover. If you've waited to place your order, or you have a fast-approaching deadline, Partition Plus has you covered. Our manufacturers ship out 35 different high-pressure laminate colors in just two to three business days. Even with transit time, you will get this material fast!
Budget Friendly
A member of the "economy line" of bathroom stalls, alongside powder coated steel, high-pressure plastic laminate needn't break the bank.