Inevitably, your current restroom partitions and washroom accessories will become worn and require replacement. When the time does come for replacement, consider investing in stalls made from a material designed to last at least as long as the previous material. Selecting partitions designed to withstand your bathroom conditions will save you hassle – and money – in the long run. For high durability, solid phenolic, solid plastic, and SCRC are excellent options. For less demanding environments, consider plastic laminate or powder-coated steel.
Stall manufacturers offer a range of styles and materials – designs to accommodate any building project's bathroom requirements. From demanding, high-end jobs, down to do-it-yourself projects, manufacturers offer plenty of options. These options relate to appearance, cost, and a range of other factors.
Provide A Layout, Receive a Quote
Leave the detail work to the experts. Make sure to supply accurate measurements, but keep in mind that a quality partition retailer will accept information about the layout of your bathroom and provide you with a detailed design of the space, including the dividers. Be prepared to measure the overall dimensions of the area. You will also need to measure the distance between commodes – and the toilets and the surrounding walls. You should also offer up any details about stub walls or half walls in the restroom space. Make the drafting process quicker by noting any other obstructions or obstacles-to-installation in the bathroom area.
ADA Regulations for Stalls
ADA regulations require businesses that provide public bathrooms to offer accessible facilities for those with disabilities. Complying with ADA guidelines is simple when working with a quality stall supplier. The supplier, or retailer, will handle most of the detail work involved in sizing the toilet partitions. Supply them with locations of the commodes within the bathroom as well as dimensions of the bathroom overall. They will then produce a layout that includes one or more ADA compliant restroom partitions. Independently confirm that the stalls are ADA compliant and meet local codes and regulations for your location.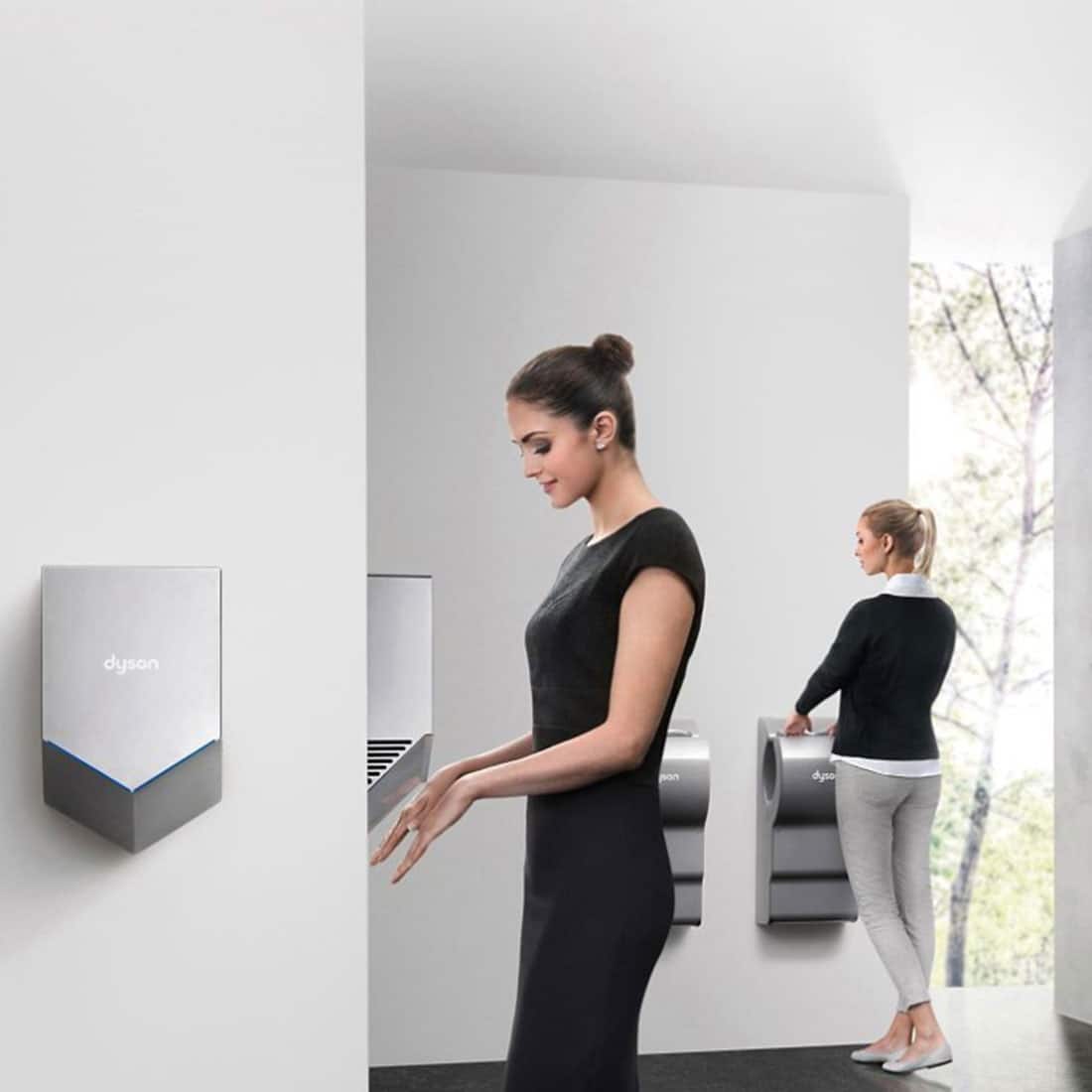 Privacy-conscious restroom users appreciate good partition design.
Restroom Partitions for Privacy-Conscious Patrons
Urinal screens and privacy screens are just as important as standard bathroom partitions. Remember to include them in your layouts and quote requests when making bathroom renovation plans. While privacy screens are not always a regulatory requirement, privacy-conscious patrons and customers using public facilities much appreciate them. Sacrificing the comfort of bathroom users for monetary savings is a risky proposition. Most public facility operators agree that investing in up-to-date, private restroom partitions is quite worthwhile. When visitors to your establishment are happier and more comfortable, they are more likely to offer repeat business and spend more money. This fact is true whether you operate in the hospitality, retail, dining, or service industries.
Sales representatives at Partition Plus have years of industry experience. Whatever the scope of your job, we have the knowledge and skills to assist. Partition Plus is ready to provide the products and services you need, at competitive prices. You can expect top-notch service throughout your bathroom partition project. We strive to create the best purchasing experience and earn your repeat business.
Quality Restroom Partitions Include Hardware
Don't overlook the quality of the hardware used with your stalls. Inferior hardware is a sign of inferior partitions. Stall retailers sell quality partitions with quality hardware that is designed to last at least as long as the dividing panels.
Carefully Consider Washroom Accessories
Take time to consider the accessories for your bathroom. Create a hospitable environment that is easy to maintain. There are no rules that say a facility operator can't equip a bathroom such that it is easy to clean. The restroom can also be visually appealing and comfortable for users. The wide range of stall materials and bathroom accessories on the market make these tasks simple.
While we would never recommend spending beyond your budget, we can advise that bathroom accessories are one area where you do not want to scrimp. Bathroom visitors are conscious of the quality level of a facility's appointments. It is for this reason that some bathroom operators opt for expensive, luxurious additions, such as Dyson hand dryers and dividers made from exotic materials.
Select Accessories for Durability and Functionality
Toilet seat cover dispensers are just one example of a washroom accessory that is not 100% crucial but is much appreciated by the vast majority of bathroom visitors. Some other examples of this type of accessory include hot air hand dryers and feminine hygiene product dispensers/disposals. All bathrooms should include toilet tissue dispensers, soap dispensers, towel dispensers, and waste paper towel receptacles at a minimum.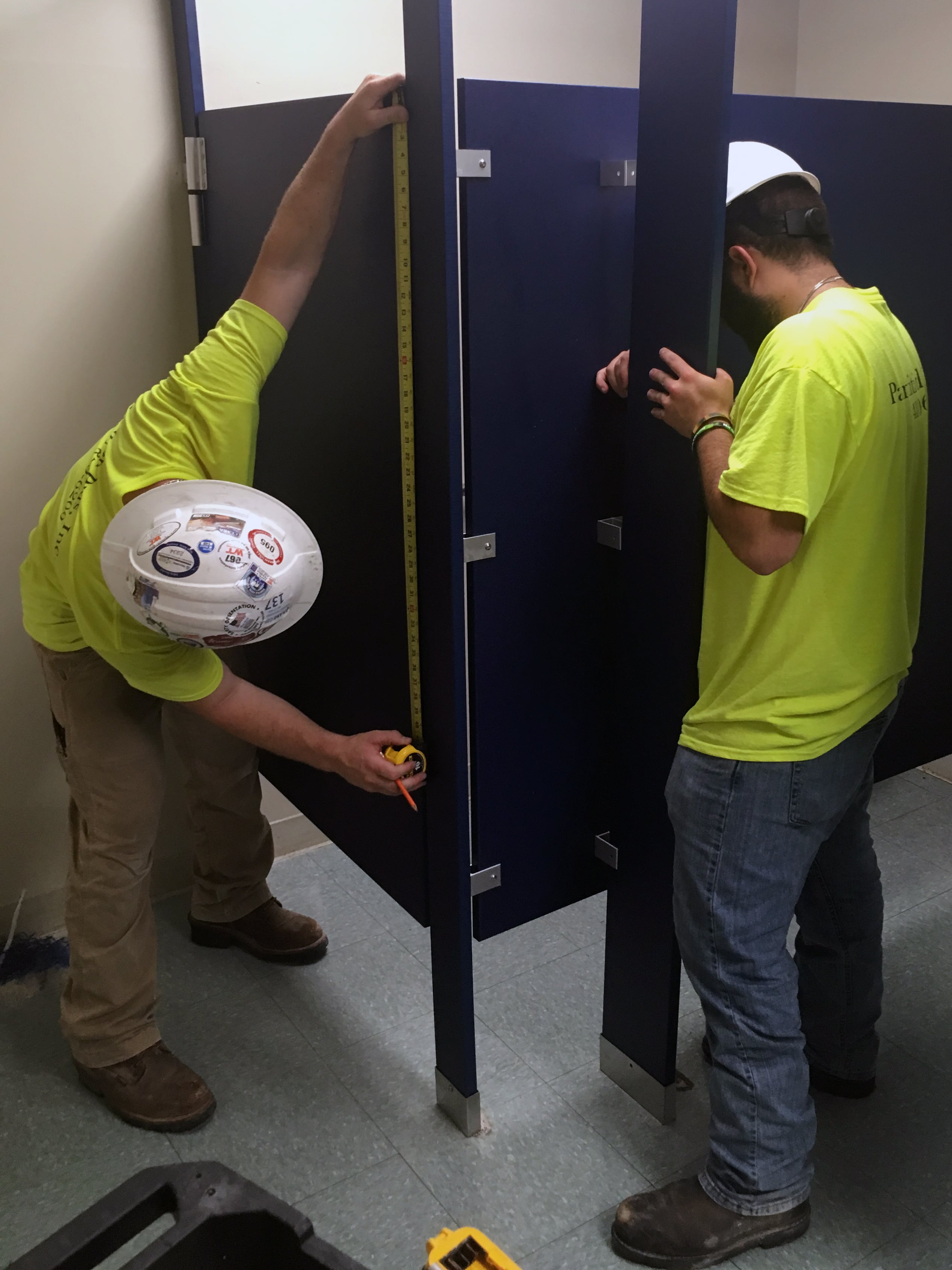 Professional restroom partition installers at work.
Install is an Important Consideration
Restroom partition installation is usually completed by an experienced professional. However, many DIYers succeed in their installations every day. It is essential to have comfort working with building materials and using the necessary tools. Without this, installing partitions will be difficult for anyone.
Regularly maintaining your stalls is critical. Toilet partitions do not require an overwhelming amount of maintenance. However, you must take good care of them if you expect them to last as long as advertised. You must clean the stalls regularly. Also, verify that the hardware holding the components in place is secure. If the hardware securing the panels, pilasters, and doors to each other becomes loose, the parts may wobble and become damaged during regular operation.
Cleaning can be as simple as wiping the surfaces with a mild soapy solution, followed by a rinse and towel drying.
Better Restroom Partitions Increase Customer Comfort
When a public bathroom owner shows initiative when outfitting their space, customer satisfaction usually reflects this. Perhaps customers will be motivated to return or to spend more money during their time on-site.
Partition Plus distributes products nationwide for numerous manufacturers. Quick shipment and low freight costs are possible thanks to our many shipping locations across the country. We ship anywhere in the United States. If you need your restroom partitions and bathroom accessories, both furnished and installed, we provide those services to Maryland, Washington DC, Virginia, and the surrounding region.