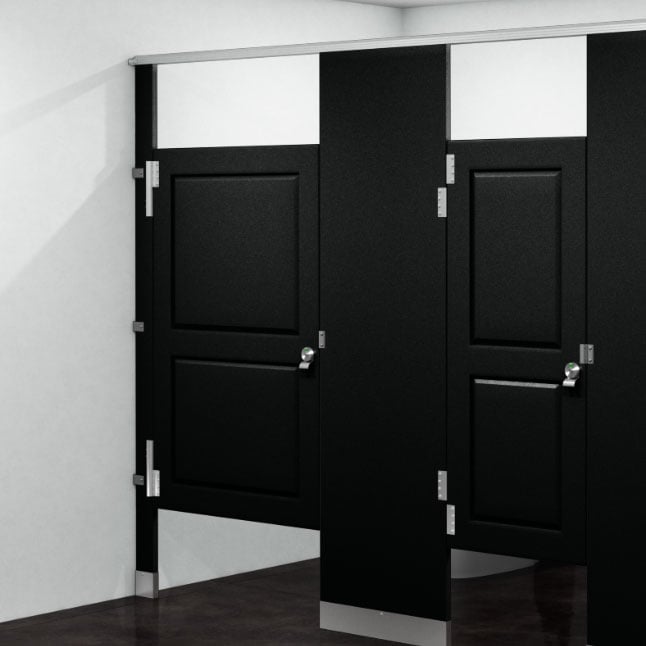 Choosing a toilet partition material can be difficult. Given the realities of public restrooms, the stalls must be durable. At the same time, everyone wants their bathroom to look nice. Heavy-duty products aren't always beautiful, especially when the overall cost is a concern.
HDPE toilet partitions excel when it comes to dependability. They are impervious to moisture, which is a significant benefit for stalls intended for busy public restrooms. Because they are water-proof, HDPE partitions are also easy-to-clean. Simple cleaners, disinfectants, and water are all that is required to clean and sanitize solid plastic panels. Among common toilet partition materials, HDPE is often viewed as a practical option – not the first choice for a design-oriented bathroom project.
With the emergence of optional engraving, solid plastic has become a viable choice for bathrooms requiring a decorative accent. Continue reading for more information about Signature Engraving and custom engraving from Scranton Products.
Previously, solid plastic stalls weren't good candidates for bathrooms decorated in a traditional style. The clean lines and bold appearance of HDPE don't blend well with ornate decor. Also, the solid plastic color palette favors utility over beauty. But now, with Signature Engraving, HDPE solid plastic bathroom stalls can harmonize with traditional decor. Signature Engraved doors and panels have the look of frame-and-panel construction, though they are a single, solid piece of material.
Before the availability of engraving, customization options for solid plastic toilet partitions were limited. But now, you can increase brand visibility and heighten team spirit by placing a logo on your facility's toilet partition doors. One-color engraving is visually subtle but makes a major impression on clients and fans.
For flashier customization, consider two-color engraving. This option uses solid plastic manufactured with a hidden colored insert. Engraving exposes the contrasting interior material, creating a dramatic multi-color design.
Refer to our Engraved Solid Plastic page for more information. If you have questions, call us at 800-298-9696 or email sales@partitionplus.com. We are happy to explain more about available engraving options and prepare a quote for you.