Solid Core Phenolic Toilet Partitions Cleaning and Maintenance
---
Solid core phenolic bathroom stalls are maintained similarly to high-pressure laminate. The process is similar because both models have a customizable melamine face. The bonded core gives phenolic a strong moisture resistance. Also, moisture resistance allows the use of hose-down cleaning methods.
Solid core phenolic cleaning and maintenance is simple to do. We have plenty of tips on how to do it right. Using these tips, keeping your bathroom stalls looking fresh and clean for years will be easy. We all know no one wants to invest in a product with difficult upkeep. Fortunately, the cleaning and maintenance of these stalls are relatively hassle-free!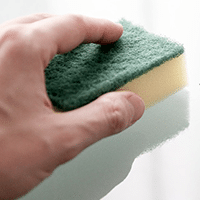 Clean partition surfaces with a soft sponge.
Solid Core Phenolic Maintenance
As with any product, we recommend that you regularly maintain your bathroom stalls. Also, the faster you clean up spills and accidents, the less chance of any damage. Regardless these stalls are built tough to withstand most normal use. Below we highlight the best practices for cleaning them.
Regularly check all the hinges, screws, and connections to make sure stalls are in perfect working order. This step will eliminate needing to replace any parts or fix unnecessary damage. These bathroom stalls are built solid. However, wear and tear can cause things to move out of place. Additionally, occupants may dislodge something occasionally.
Solid Core Phenolic Cleaning Best Practices
The methods used to clean bathroom partitions differ based on the type of soil found on their surface. It is important to use the recommended method to get the best possible results.
First, remove smudges, fingerprints, or other residues found on the solid phenolic bathroom stall's surface with a mild cleaning solution. Clean smooth surfaces can with a cloth or sponge — clean textured surfaces with a soft brush. Always rinse thoroughly, and make sure to dry the surface completely.
Second, remove more difficult stains such as oil, crayon, lipstick, or greased soil with a general purpose cleaner. Or use a mild degreaser. Dampen either a cloth, sponge, or a soft-bristled brush with the corresponding cleaner and apply it to the affected area. Rinse completely and dry thoroughly.
Third, for tough soiling, like water damage and other stubborn stains, you will need a more powerful cleaner. A mild detergent or general purpose cleaner do the trick! A bathroom cleaner containing acetic acid is an excellent choice for the removal of these kinds of stains. Wet a cloth, sponge, or soft bristled brush with the desired cleaner, and gently clean the affected area. As always, make sure to rinse and dry thoroughly.
Unfortunately, vandals often choose to target bathroom stalls with graffiti. You can use ordinary cleaners or detergents on solid phenolic bathroom partition surfaces affected by graffiti. Instead, treat them with a graffiti remover. Spray or wipe the remover onto the surface with a cloth or sponge, and make sure to rinse and dry thoroughly.
Have more questions about solid phenolic toilet stalls? Contact us for more information and advice: call 800-298-9696 or email sales@partitionplus.com.