---
Solid core phenolic bathroom advantages include a strong resilience against damage and vandalism. Unfortunately, bathroom stalls are often prime targets for graffiti and other forms of damage. These bathroom stalls carry a respectable resistance to physical damage and destruction.
Graffiti immediately takes away from the look of your bathroom. Because of this, it is important to be able to remove it. By using a special graffiti cleaner designed for solid core phenolic stalls, you can make sure that graffiti doesn't leave a lasting mark.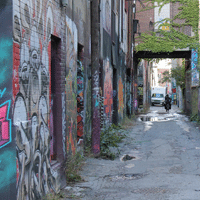 Avoid large scale vandalism with resistant phenolic bathroom stalls
Choose from a Wide Variety of Colors
Customizing your bathroom is fun when you have a ton of different options! We have color choices for even the most particular and picky people. In fact, we guarantee that anyone can be satisfied with a solid phenolic toilet partition color. To start, we have three different color collections:
Wilsonart
Formica
Nevamar
Between these three brands, we have over 400 from which to choose. We can accommodate even the most difficult of design situations. No matter what your look is, we have something to match it.
Excellent Fire Resistance
Solid core phenolic toilet stalls take fire resistance a step further than their economy-class high-pressure laminate counterparts. As a result, these bathroom stalls are compliant to ASTM E84 fire resistance standards and they minimally rank as a CLASS B material. The material can also be modified to comply with CLASS A standards. In the event of a fire, there will be a minimal spread of flame. Moreover, these bathroom partitions won't create a lot of smoke, leading to even more dangerous conditions. These qualities make them a safe choice for any establishment with restroom facilities.
Easy Maintenance & Cleaning
Hose down solid phenolic toilet stalls can be hosed down when extreme cleaning is needed. The material will not warp in a hose-down situation. The resin-infused kraft paper coupled with a melamine surface carries an impermeability (resistance to) water.
We always recommend that you thoroughly dry your bathroom stalls after cleaning, to make sure that no water stains are left behind. Drying things off is also a safety measure to ensure no one slips or falls in your establishment. As with all of our products, inspect the bathroom unit regularly to make sure it is in perfect working order. Checking the unit ensures that it will last for years to come.
Incredible Guarantee Allows You to Buy with Confidence
Solid phenolic is a premium toilet partition material designed to provide customers with long-lasting service. As a result, we offer a 25-year guarantee. If the bathroom stall fails to meet the expected longevity, we will replace it.
This guarantee allows you to buy a product with complete confidence that you are making a wise choice. We stand behind our products and want you to be 100% satisfied with your purchase.
In summary, there are many significant advantages to solid core phenolic bathroom stalls. If you have any additional questions about this product or the material, please feel free to contact us at any time. Call 800-298-9696 or email sales@partitionplus.com. One of our sales staff members will be happy to help you!