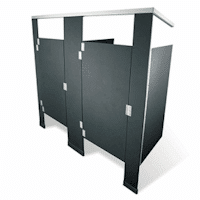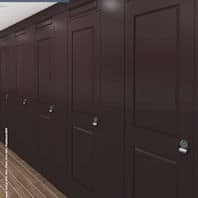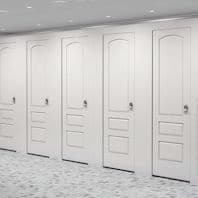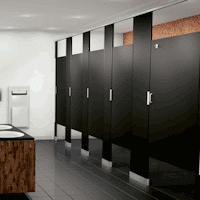 There are many HDPE Solid Plastic advantages. With our guide below, you can see how this material is a great choice for your bathroom stalls. Continue reading to find out more!
Unprecedented Durability, Built to Last
If you are looking for your bathroom stall to stand the test of time, you have come to the right place! Just the solid plastic material alone makes it stand out tremendously compared to other materials. It is the only one that has a solid composition from front to back, with no differentiated core in the middle. This makes it exceptionally strong as a bathroom partition material, and reduces the number of ways a restroom partition can become severely damaged. For example, if the bathrooms stalls get a small scratch or dent, it will not affect the color. Additionally, solid plastic is strong and will stand up to scuffs and bumps over time.
Great Design with Plenty of Customization Options
One of the hugest HDPE solid plastic advantages is the nearly endless customization options. We offer:
A large number of colors options to choose from. We have so many colors that we have actually broken them down into categories for you to browse through.
Colors can be paired with one of five potential textures for further customization.
These customization options give consumers a wide variety of choice when planning out the appearance of their bathroom stalls. You can make sure that it seamlessly fits your decor by choosing the options that work for you.
Water Proof Design Eliminates Worry
Another huge benefit of plastic is how it interacts with water! Solid plastic bathroom stalls are made with a material known as HDPE, or high-density polyethylene. This material not only has an unrivaled durability, but also is impermeable (not able to retain water). As a result of this characteristic, solid plastic bathroom partitions are highly resistant to moisture and/or mildew, making hose-down cleaning methods a very viable option.
Water proof design is a huge advantage because it is easy to clean. Additionally, it is a terrific option for those of you who have bathrooms located in areas that are humid or exposed to a lot of moisture.
Good For the Environment
It is always a bonus when you can get a quality product and help the environment at the same time. For those looking for a solution to environmentally sensitive projects, solid plastic toilet dividers are by far the best route to go.
The utilization of solid plastic toilet stalls in projects assists in LEED certification
They contain anywhere from 25% to 100% post-industrial recycled high-density polyethylene
The materials are 100% recyclable themselves
There is no painting in the process of coloring solid plastic, which removes the issue of VOCs.
As you can see, there are plenty of reasons that this is an environmentally-friendly choice!
Fire Resistance Improves Safety
We provide an option to custom-manufacture your olid plastic with a material that is ATSM E84 CLASS B or ASTM E84 CLASS A fire-resistant. In the event of a fire, CLASS B compliant materials spread very minimal flame and smoke, and CLASS A compliant materials will spread no flame and smoke.
These options increase safety in the unfortunate event of a fire. Also, it minimizes damage caused by flames and smoke.
Easy to Maintain
It goes without saying that solid plastic partitions are built to take a beating and last for years to come. The cost of keeping them in good condition is relatively low due to the simple repair. Maintenance is almost always an easy job given that the material can be hosed down, and is also capable of being burnished in the event of visible cutting or scratching.
An Unprecedented Guarantee
If concern about solid plastic still exists after all of these great characteristics and perks, solid plastic comes with a 25 year guarantee!