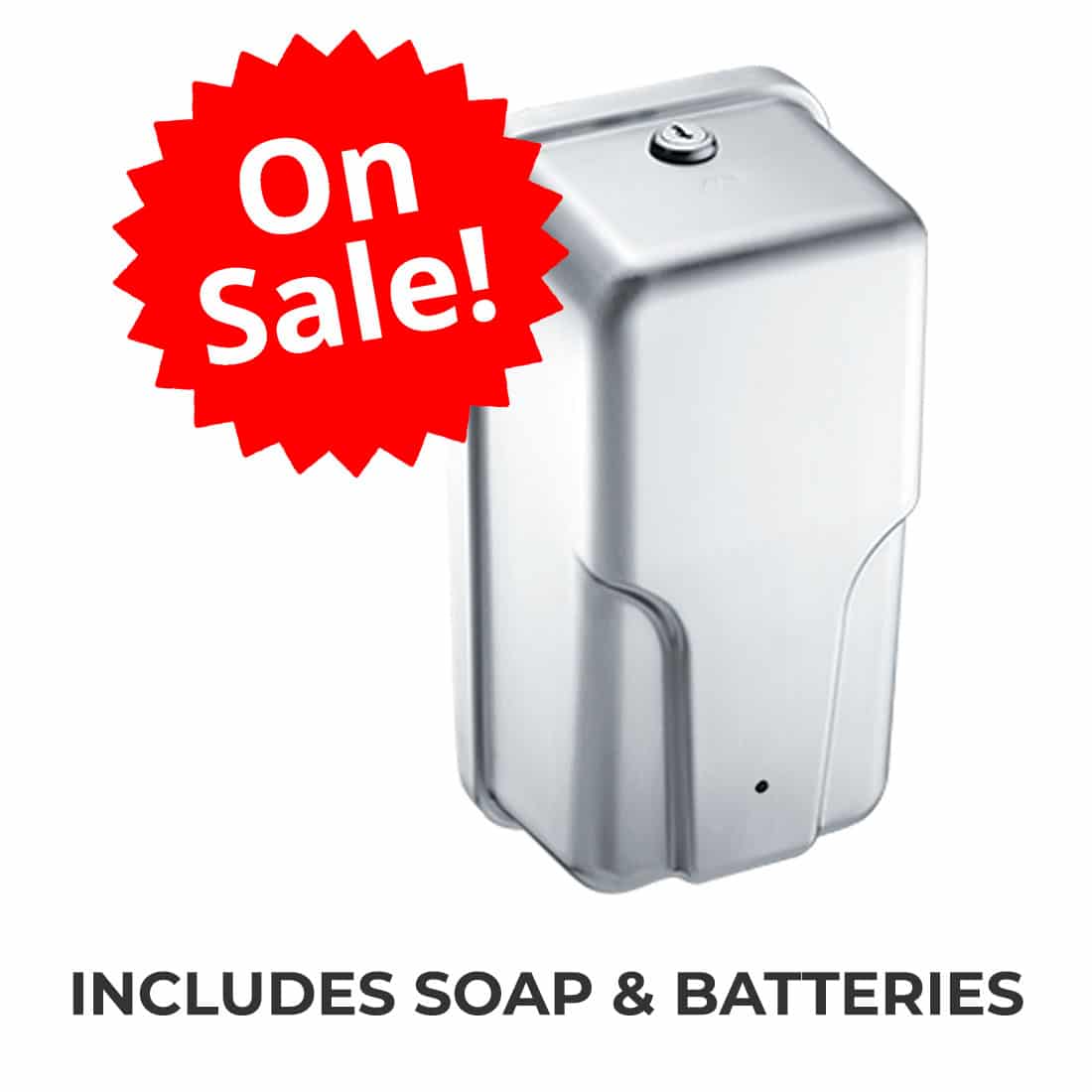 Could your facility's bathroom use an automatic soap dispenser? Well then, take a look at this great deal!
As part of ongoing construction here at the Partition Plus offices, we've been cleaning-house. Our organizing uncovered several pallets of ASI soap dispensers. Aiming to liquidate this stockpile, we're offering ASI's Roval Automatic Foam Soap Dispenser 20365 at a deep discount. To sweeten the deal, we're giving you the soap and batteries necessary to get the unit up-and-running.
Ours is one of the best prices you'll find on a durable, easy-to-install, automatic soap dispenser from a trusted American manufacturer. A real bargain! Take a look.
What makes this offer even better is that we are including soap and batteries along with the unit. Order now and you'll receive everything you need to put this stylish automatic soap dispenser in your restroom.
Install the dispenser using the included anchors and mounting screws.
Pour the included soap concentrate and water into the internal tank.
Pop in the four included AA batteries.
In just a few minutes you will have added a convenient foam soap dispenser to your washroom.
Don't assume that because these dispensers are being offered at low-cost, they are of low quality. American Specialties, Inc. is one of the leaders in the washroom accessory industry. Durable construction, concealed mounting, and automatic dispensing make this accessory highly resistant to vandalism. This unit fits well in even the smallest bathrooms because of its compact dimensions.
Large 1 L (33.8 oz) soap tank (we are including soap with this kit).
Compatible with soap pH from 5.5 to 8.5 and viscosities from 5 to 1500 mPa-s/cP.
Uses 4 AA batteries (included with this kit).
Stainless steel cover locks to prevent tampering.
Satin finish, 22 gauge, type 304 stainless steel alloy 18-8.
For more information about this promotion or the 20365 Roval Automatic Foam Soap Dispenser from ASI, contact Partition Plus. Call us at 800-298-9696 or email sales@partitionplus.com. Download the ASI 20365 data sheet (PDF), operation/installation manual (PDF), or maintenance instructions (PDF).